Exhibitors have brought to our attention that they are being targeted by companies claiming to be, or work with, our organisation, Media 10. These companies may use Media 10 or Grand Designs Live branding and messaging to appear genuine.
Fraudulent activity includes (but not limited to) attempting to sell fraudulent visitor contact information and selling directory services.
It is therefore extremely important that you remain vigilant when signing documents seemingly related to the events and if you are in any doubt surrounding the authenticity of communication received, please contact your sales account manager.
The Association of Event Organisers Ltd (AEO) advises exhibitors who fall victim to this scam to do the following:
IGNORE THEM COMPLETELY, and not communicate with them in any way. Writing letters simply confirms that you exist and are available at the address/email address/number they have for you, and therefore payment can be pursued.
Report it to your local trading standards
DO NOT PAY ANYTHING
DO NOT COMMUNICATE WITH THE SCAMMERS even when they threaten legal action
These organisations have also been known to use debt recovery agencies, the same advice stands for these agencies.
Examples of fraudulent companies below:
International Fairs Directory and Expo Guide
The company writes to you, sending a legitimate looking form, which is headed with the name of the show you are exhibiting at and can appear to be from the show organiser.
This asks you to confirm certain basic details, typically stating it is related to a show listing or advertisement in a show guide or similar. The small print at the bottom informs you that you are signing a 3 year contract for the purchase of advertising space for which you will be invoiced. There are a number of addresses used for this scam, principally in Mexico or Uruguay.
If you sign and respond to this form, you will be sent invoices for your "advertisement", followed by increasing demands for payment. This subsequent invoice is typically not branded with the show or organiser logo or name.
Please note that for exhibitors confirmed and paid in time, we will include your company in the Show Guide and on the website for free. There is no separate paperwork for this.
Convention Expo Travel
A company calling itself Convention Expo Travel has been approaching exhibiting companies purporting to be the official hotel booking agency for the show and taking credit card details and bookings without making any such bookings with the hotels concerned.
When booking your hotel, we advise you to speak to our hotel booking partner, Event Express about special discounted rates at a wide range of well-located hotels in close proximity to the venue.
Call +44 (0)1905 732 737, email reservations@eventexpressuk.com or visit: www.eventexpressuk.com/
Tech Conferencez
A company that Is targeting exhibitors with attendee lists for Grand Designs Live events, using the legitimate logo for the event.

Additional example 1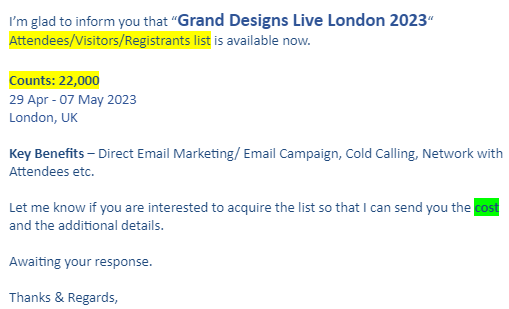 Additional example 2