Elizabeth Knapp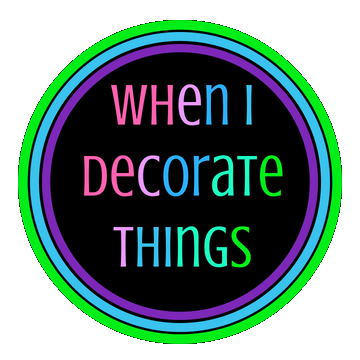 Elizabeth Knapp's When I Decorate Things brand is based in Crystal Palace, South East London.

Elizabeth loves bright colours and has a very visceral response to colour and pattern. Her When I Decorate Things creations are the products of that instinct and imagination in response to what she sees and feels, honed by the skills and techniques she has developed over time to bring them to life. She fell in love with the brightly coloured and decorated furniture she had seen in magazines and on social media, so decided to try upcycling, revamping and decorating the brown furniture that she already had.

After some time, having painted, decorated and decoupaged most of the furniture in her home, and developed her technical skills, she moved on to upcycling pre-owned smaller wooden pieces to given them a colourful, vibrant new lease of life. And so When I Decorate Things was born in early 2017.

The upcycling theme continues with her resin work as she loves incorporating salvaged materials into her pieces – for instance using old vinyl records (particularly records she has an aversion to) as 'canvases' for her resin art; and embedding things like foil chocolate wrappers and old necklace chains into her jewellery, for extra depth, shine and interest.

While Elizabeth works in a variety of media and creates a range of items, there is a thread of related values running through her pieces. The first value is of course colour – for her more is usually more, and she loves experimenting with surreal colour palettes. The second value is happiness – she aims to create pieces which are quirky and joyful and brighten the viewer's day whenever they see them. (She is drawn particularly to animal and plant designs, and spirals.) The third value is probably best described as 'fostering being in the moment', with her wish for viewers to pause for a moment while they look at my work, to create a little breathing space from the busy-ness of daily life.

Elizabeth has been a member of the House of Upcycling, the UK and Ireland's leading authority on professional upcycling for interiors, since 2017. She is also a founding member of the Crystal Palace Exhibit 12 artists' collective.
Website: https://whenidecoratethings.co.uk/