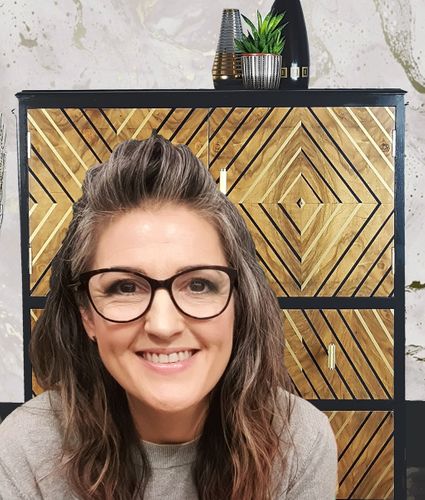 Nicky Cash
Nicky Cash of Done up North is an award-winning designer of Vintage Modern Furniture who specialised in hand created geometric and optical effect surface design. Her ethos is to create 'Antiques of the Future' and so she intentionally balances celebrating the original design whilst elevating it with the striking new design work, quality finishes and new fittings to create a unique style statement.

Company name: Done up North
She creates one-off pieces for sale but mainly works closely with clients to create completely custom designs working on inherited or specifically sourced vintage pieces. She has been teaching her techniques in her Leeds Studio and in her online Design School for the past 3 years, some of which you'll see on the Live Upcycling demo stage at Grand Designs.
Company description: Done up North is a Furniture Refinishing and Design company based just outside of Leeds, where it was established almost 5 years ago. We are an Associate member of the House of Upcycling - the curator of this year's Upcycling Hub at Grand Designs Live - and an Ambassador for their membership of the British Institute of Interior Design.

We specifically aim to work with the pieces that would no longer be kept in circulation without upcycling or inherited pieces and we aim to re-finish, repurpose and salvage as much of the original pieces as possible. We use environmentally friendly and non-toxic products wherever possible, making each creation and the process as sustainable possibly.
Website: www.doneupnorth.com