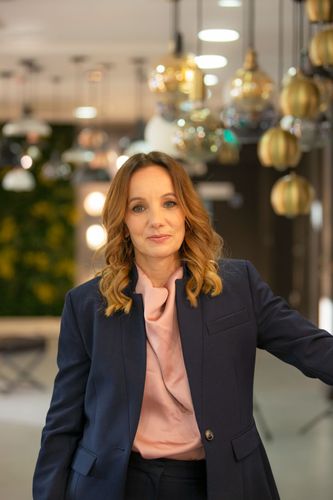 Mara Miller
Mara founded Industville nearly a decade ago, following a successful career in International Marketing & Business Development. In the decade since its inception, Industville has grown from a small home business to an international enterprise with a team of craftsmen and artisans dedicated to producing lights of unparalleled quality. Mara founded the company after building an extensive background in international marketing and business development. In particular, Mara's tenure with the likes of Volvo and AXA and other international companies was invaluable.
The business grew exponentially ever since then and now serves a huge range of customers and businesses worldwide, flourishing to become what it is today, a design led company with strong values for quality and sustainability, all the way from our artisan manufacturing to our end product. Taking on this challenge has been an incredibly rewarding experience for Mara; Mara had the opportunity to design her own products and make crucial decisions, lead a team, and experiment with different tactics in order to provide the best customer support possible. This process of keeping up with customer demands has been a great source of satisfaction for Mara, as it has given her the chance to hone her problem-solving skills. It has also enabled Mara to come up with innovative solutions to improve customer satisfaction levels, whilst making sure that our service quality remains at its highest level.
Additionally, Mara gets the chance to work closely with colleagues and motivate them towards achieving our common goals. Moreover, Mara is able to use resources efficiently in order to get results in a timely manner, which further contributes towards positive experiences for our customers. All these aspects combine together to form an incredibly fulfilling activity that Mara enjoys doing every single day.
Company Description: Industville Limited is an internationally recognised company, specialising in the manufacture and supply of handcrafted, high-quality industrial style lights and furniture. Our lighting collections are designed in-house by a team of experienced designers and architectural specialists, with all pieces exclusively manufactured in our dedicated factory. Products are made from the highest quality materials and are individually hand finished to ensure they retain an authentic quality that holds true to the ethos and feel of vintage fixtures. We work closely with clients to produce bespoke lighting and furniture solutions. These have included a variety of distinguished retail, leisure and hospitality companies such as Liberty, PAUL, Next, Lush, Ted Baker, Costa Coffee, Café Nero and SuperDry in addition to smaller scale interior projects and retail customers. The strength of our company lies in the fact that our mission is to always provide customers with high-quality, uniquely designed, handcrafted products and exceptional customer service. We pride ourselves on offering sustainable design led products. We also offer a bespoke design product service to cater for customers requiring something individual and custom-made.
Website: https://www.industville.co.uk/