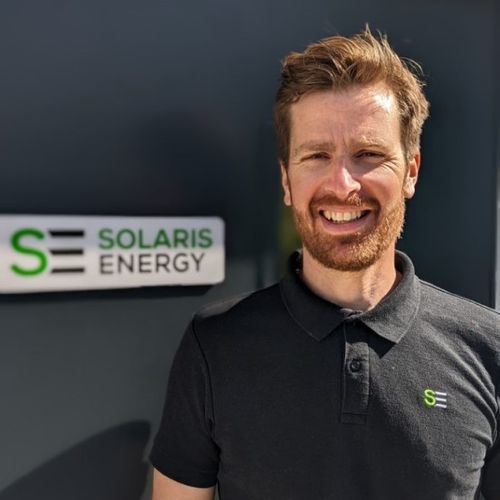 Dan Large
Managing Director
,
Solaris Energy
Dan Large is a respected voice in the renewable, low carbon heating sector, with his invaluable in-depth practical and technical experience helping to shape the future of the industry. He sits on both the Microgeneration Certification Scheme (MCS) Working Group for Heat Pumps and Employers Panel for Low Carbon Heating Apprenticeships. This has placed him in the unique position to influence both government decision makers in the renewable heating sector, manufacturers of heat pumps and training providers.

With over 15 years' experience in the heating industry, Dan began the move to focus on renewable heating as his specialism in 2014, after seeing the benefits of heat pump technology on the environment and on customer's energy costs.

Dan set up Solaris Energy in January 2017 as a one-man band, with the core of the business being focused solely on the design and installation of ground and air source heat pumps. This allowed him to further develop an expertise which set Solaris Energy apart from its competitors and saw the company successfully completing challenging projects where others doubted heat pump technology would be effective.

Fast forward to 2022, the Solaris Energy team, based in Canterbury, Kent has expanded to twelve, with engineers working across on a variety of projects across the UK, delivering sustainability, superior performance and a pleasant transition to low carbon, renewable energy.
Company description: Solaris Energy have been designing and installing low carbon, renewable heat pump systems for over 12 years, helping hundreds of customers to future proof their heating bills and helping to decarbonise their properties. With clients ranging from castle owners; self-builders, architects; farmers and more, we have the expertise to find the best solution each home or business.
Website: solaris-energy.co.uk