What will our homes look like this year? A selection of leading influencers share their insights
Original article first published on Houzz
Victoria Harrison, Houzz Editor
Is Scandi style over? Could velvet be here to stay? Five of the UK's leading influencers and bloggers were asked to predict the design future.


Colour-blocking
"For 2018, I predict we'll see an increasing number of homes sporting the colour-block look. Bright, graphic neons and bold hues will prevail, often teamed with more pared-back pastels and muted tones. As the trend gathers pace, we'll see more confident colour-block combinations, separated by clean, graphic, 80s-inspired lines."
Emily Murray, The Pink House


Goodbye Scandi, hello luxe
"I think 2018 will see, if not the death of Scandi, at least it being forced to make room for a new sense of luxe and opulence that's coming through in interiors now.
"When the world outside is uncertain, we all want to come home to somewhere cosy, comfortable and safe. So I think there will be a gradual softening of those clean Scandinavian lines and sense of minimalism, for a look that's more colourful, more luxe and more cocooning. Think velvets and textiles in jewel tones that edge towards a more maximalist feel."
Kate Watson-Smyth, Mad About the House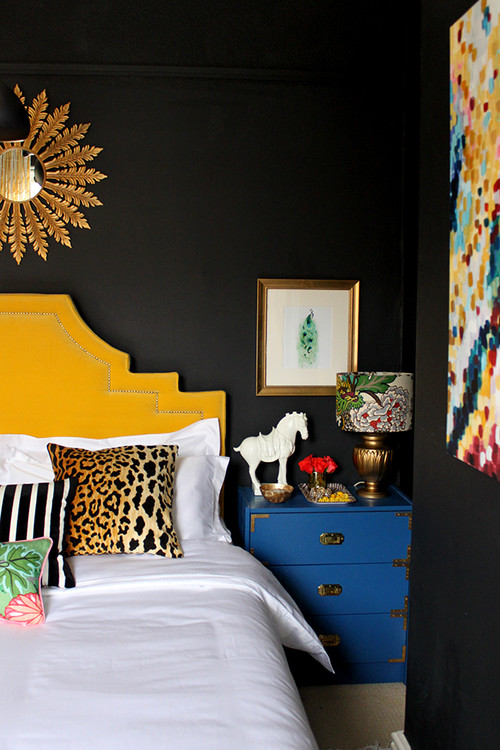 Maximalism
"Over the past few years, there's been a strong focus on a more modern and minimalist interior style. For the upcoming year, I predict there'll be a shift towards maximalism and 80s-influenced design.
"We'll see this style through mixing vibrant colours, striking patterns and contrasting textures within interior spaces. Strong wallpapers and paint colours, as well as bold objects, will be important accents in achieving this look.
"2018 is a perfect time to be expressive and have fun with your interior."
Gabriella Palumbo, Flat 15


Greenery
"This has been emerging as a trend over the past couple of years or so, and I think 2018 is when it's going to explode fully onto the interiors scene.
"More and more people are bringing plants and foliage into their homes – perhaps as an antidote to our increasingly stressful urban lives – and I see this spilling over into everything from plant-print wallpapers to fabric patterns.
"As an extension of this, green upholstery is also set to become a major trend, particularly velvet in deep shades of forest green."
Abi Dare, These Four Walls
Find plant pots for your greenery


Metal-framed factory-style doors and windows
"As a reaction to the ubiquitous uPVC doors and windows you find in many new-build homes, we predict these industrial-inspired doors and windows will be making a comeback. The use of smaller panes of glass as opposed to ultra-modern glazed walls creates a bit more of a cosy feel.
"We don't think these will just be used outside of the home. As they're often a pricer option, we predict more of this style being used as internal doors and windows, as a feature. Examples of this could be en suite bathroom doors, wine cellar walls and porches. They're a fantastic nod to the traditional but with a twist."
David & Mark, Forward Features
Come along to Grand Designs Live to find the latest trends and products to get your project off the ground! Visit the Grand Room Sets sponsored by AXA Insurance to see ideas brought to life with colours, material and light. The Grand Rooms Sets competition will take place at the show where a panel of judges will choose their favourite.
Article provided by Houzz
Houzz is the leading platform for home renovation and design, providing people with everything they need to improve their homes from start to finish – online or from a mobile device. From decorating a small room to building a custom home and everything in between, Houzz connects millions of homeowners, home design enthusiasts and home improvement professionals across the country and around the world.