Why Visit Ask an Expert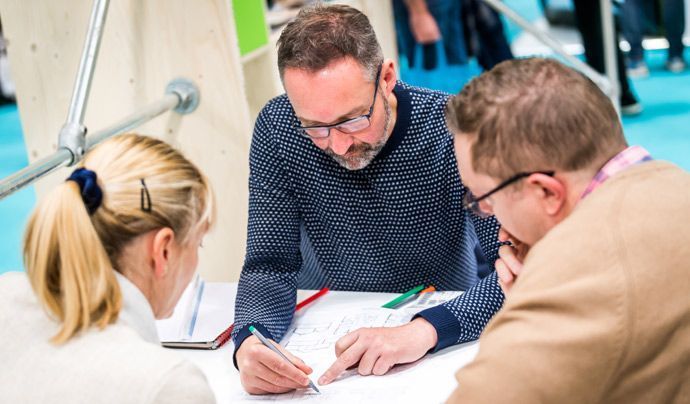 Tackling a home project can be a stressful process if you're lacking the knowledge, experience, or materials to make it a success. Whether you're a first-time self-builder, extending your current home, or looking to update your interiors with the latest design trends; there are many sources out there, which makes finding the right thing to do, very difficult.

A visit to one of the Grand Designs Live events at London's ExCeL or Birmingham's NEC, will give you the opportunity to visit the show's most popular event feature 'Ask an Expert'. As the name suggests, it's a place to ask any burning questions, discuss project plans, or get advice on your individual home project, however big or small.
Visitors can pre-book free appointments on the event website in advance, or turn up on the day to secure a slot on a first-come-first-serve basis. There are currently 12 categories to choose from and within each of these broad titles are experts specialising in certain fields, as well as those who will be able to cover the category as a whole:
Architecture
Architectural Technology
Eco & Sustainability
Finance
Garden Design
Heating & Ventilation
Interior Design
Kitchen Design
Planning
Project Management
Self-Build
Structural Design
Located within the Build Hall of the show, visitors will enter via the welcome desk, where they will be greeted and shown to their table to meet their expert. Appointments last for up to 30 minutes and there will be an opportunity to bring along any necessary materials to get the most out of the session.
From speaking to one of our finance experts, Peter Hunt said,
"A lot of people are coming in, who have got sound plans. They've got their ideas that they want to move forward with. They just need them fine-tuning and guiding in the final stages. Others are coming in with brand new ideas, haven't started at all. They've got these grand ideas of what they want to do."

And it's not just the visitors that benefit from the experience. Experts who provide their advice at the show are also keen to come back, year after year, to meet new visitors and help them get on their way with their projects.
Regular ventilation expert at the show Mark Phillips commented about the visitors,
"A lot of people with live projects, coming in with drawings and it's been very good."