The Under the Stairs Project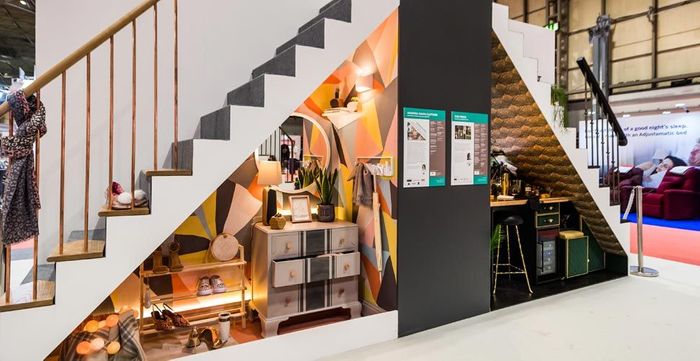 With many people looking for innovative ways to improve their homes, utilise unconventional spaces, and increase storage, Grand Designs Live created The Under the Stairs Project, to inspire visitors to be creative with the most unused area of the home.
A brief was sent out for inspiring interior designers to submit a mood board of ideas, as to how they would use their space under the stairs in an innovative way. If chosen as a finalist the designer would get a chance to bring their ideas to life at the live event, in either London or Birmingham. Using current, accessible, in-stock products, sourced from companies around the UK, the eight finalists for each event were sent on a mission to design the best space, to have a chance of winning the overall competition.
During each of the live events, judges including Kevin McCloud, Jenny Gibbs from the KLC School of Design, Barbara Chandler from the Evening Standard, and Harriet Forde from BIID, browsed around each of the room sets, looking for their favourites. Bonus points were added for the practicality, individuality, as well as overall theme, with a winner crowned at both London and Birmingham on the live Grand Theatre stage.
As a visitor; the room sets feature provided a place of inspiration for a range of home projects, including a resting space, bar, child's playroom, and photography studio to name a few. Each room set included a list of suppliers that visitors can take away with them, as well as the designers, contact details if they wish to find out any more, or to source any of the products.
2019's competition winners:
London - Chloe Spillet
A perfect solution for families residing in smaller properties without space for a playroom

See our Birmingham 2020 entries below.
Winner: Zoe Perks
A cocktail bar themed on the 1920s old-fashioned speakeasy
Zoe, founder of Beautiful Rooms by Zoe, is a hands-on, roll-your-sleeves-up kind of girl. She believes in a truly one-to-one approach; getting to know her client's individual needs and personalities to create beautiful spaces that are uniquely theirs. Her style is grounded in heritage and tradition, mixed up with mid-century and industrial influences.
Johanna Davis
The judges at Grand Designs Live awarded this roomset Highly Commended.
A boutique interior design studio, helping businesses and homeowners create beautiful and practical spaces that have an emphasis on well being and sustainability.
Lynsey Hoskin
Thriving on project variety whilst staying fresh and relevant to current market trends. Asheville Interior Design offers consultations, schematic conceptual designs via mood boards to set a treatment, right through to full-scale design with product sourcing, project management, 3D Spatial plans, and rendering available. Working together with clients to create beautiful spaces, services are entirely tailored to your requirements.
Amanda Dawn Clothier
Amanda Clothier is an Inchbald School educated designer and the founder of Quarters Interior Design Company.
Nicola Ash
Nicola founder of Loveallthingsquirky is a lover of pattern, colour, eclectic styles, and most of all boldness. She's not afraid of a pattern clash, with a unique creative flair her designs create beautiful spaces that reflect edge and personality.
Helen Crouch
"There is nothing I love more than creating new unique interiors, using different colours, lighting, new fabrics, and sometimes a little of the existing oh and shopping!!!!" Helen Crouch, Designer & Director of Concept & Completion, with years of creative flair she uses it day to day to change residential and commercial spaces, from a client's lounge to a complete pub, hotel, or garden any space can be changed.
Samantha Theakstone
Samantha Theakstone is a proud Yorkshire designer with a passion for creating unique interior and garden designs that are inspired by the nature around us. Having over 10 years of experience she has worked on a variety of projects including hotel designs, care home interiors, set design, interior styling, and show gardens.
Library couldn't be loaded. It might not be active.