Take the Heart of Africa and Transform Your Home or Garden with a Unique African Sculpture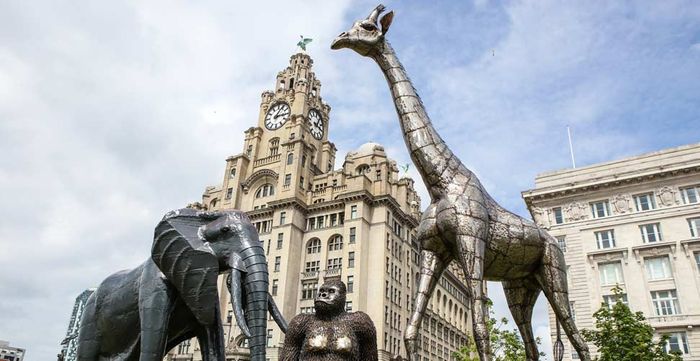 A beautiful collection of life-like animal sculptures. Each piece is unique as it is handcrafted by one of our talented Artisans in Zimbabwe and Kenya.
Materials used: recycled oil drums, car parts, and kitchen appliances.
Shipped by container to England and finished by hand at our warehouse in Lancashire.
Where it all started
Visiting a relative in Africa, company director Ian Unsworth spotted some sculptures being showcased by the side of the road. After much searching, a team of sculptors was found that wanted to support a business project in the UK and so Pangea Sculptures was created.
How we have grown
Since the beginning, Pangea Sculptures has continued to support young individuals living in Africa that want to be employed with a regular income so that they can support their families.
The business now also works with a team of men, young and old at ArtPride Africa, in Zimbabwe. Denny Simon met with Ian and General Manager, Bev Howard back in January 2019 and he formed a collective in Harare. This new partnership has enabled Pangea to enhance the sculpture range.
Sculpture range
This year the range of sculptures has grown considerably, with products being sourced in both Kenya and Zimbabwe. Working with another community has meant that Pangea can supply a wider selection of animal sculptures than ever before. As well as the big five our range now includes farmyard animals, many birds, and some insects too. Pangea is excited to have a Pangolin sculpture – the world's most trafficked mammal, as part of the new range along with Hornbill, Kingfisher, and Bee-eater birds. Being able to offer something unique is what we do best.
To view the entire range visit www.pangeasculptures.com
Special this year
For the first time, there will be some small products available to take away at the show. To name just a few there will be the Dragonfly, Robins, Blue tits, and Penguins. In addition to the smaller sculptures, there will also be a fabulous show offer not to be missed!
Visitor offer
To celebrate five years of exhibiting at Grand Designs, Pangea Sculptures is offering some fabulous promotional prices* in conjunction with the regular offer of complimentary delivery service.
*Terms and Conditions apply – sculpture must be in stock and the purchase must be completed during the exhibition opening days.
Visit Pangea on stand F6.