Sleep sustainably: DFS launches exclusive Grand Designs bed collection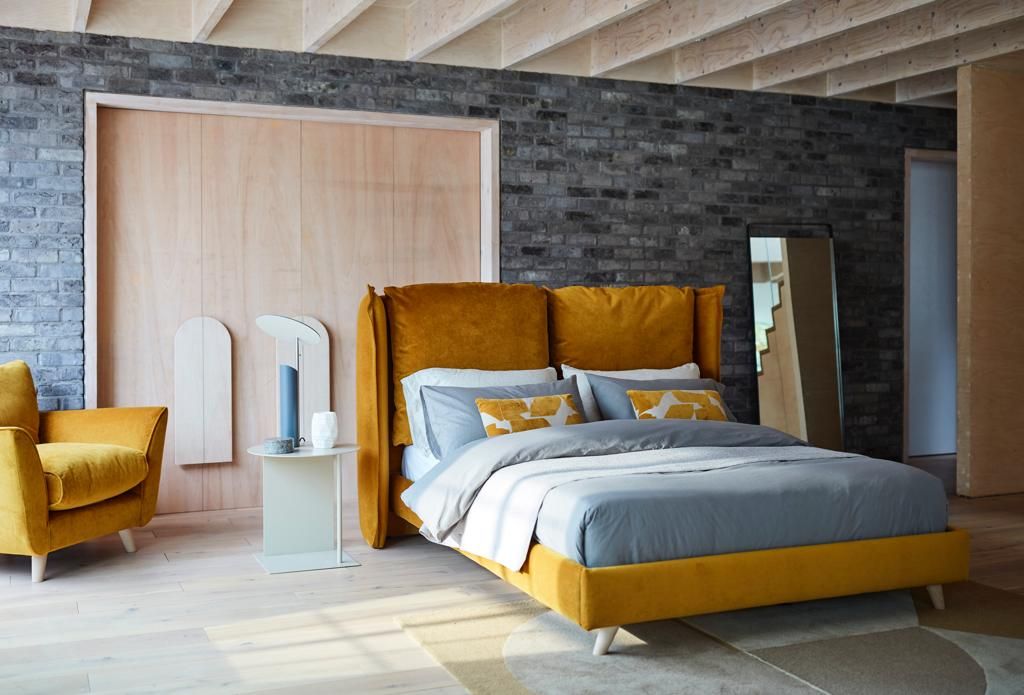 DFS is proud to announce the launch of Grand Designs beds - an extension to the already successful Grand Designs sofa range. This new collection of three stylish beds are made using only the most innovative and sustainable materials.
Designed with our future in mind - sustainability has been carefully considered for every aspect of this range. The materials used have been chosen for their reduced impact on the environment from sustainably sourced timber frames, interiors made from recycled plastics bottles and fabric made from 100% recycled yarn.
Inspired by the Grand Designs x DFS sofa collection, this design-led innovative range does not sacrifice on style. The Farnham, Tenby and Edinburgh beds are all available in three popular fabrics (velvet, chenille and weave) and a wide array of colours, from rich and earthy tones of blue, terracotta and green to elegant neutrals of mink and light grey. Each bed is available with a standard or ottoman bedframe, taking modern living to the next level with additional functionality and storage. Delivering generous proportions and a luxurious feel, each piece is inspired by the accessible and aspirational design that Grand Designs is known for.
The collaboration between DFS and Grand Designs first launched in 2021 and pioneers DFS' broader commitment to build a sustainable business model rooted in the principles of the circular economy – where waste is designed out, and more environmentally friendly materials are sourced, recycled and kept in use.
With sustainable disposal a key part of this more circular model, DFS also runs a landfill diversion programme called Sofa Rescue. In partnership with Clearabee, unwanted sofas will be picked up from your home at your convenience, recycled as much as possible, and disposed of responsibly, to help reduce the number of sofas ending up in landfill. This service is now operational across the whole DFS Group and has seen over 50,000 sofas collected across the UK.
Kellie Wyles, head of upholstery and brands at DFS, comments: "At DFS, we are delighted to continue our collaboration with Grand Designs through the launch of our beds range. We understand our responsibility to work towards a sustainable future and Grand Designs share our vision that being environmentally friendly should be accessible and affordable for all. We are proud to launch our latest sustainable range alongside Grand Designs, whilst retaining our commitment to quality, style and affordability.
"Alongside the Grand Designs sofa collection, this exclusive beds range is another step in our ongoing journey to ensure that a more sustainable approach is embedded in everything we do - from the way we source materials, to the way we design, manufacture, retail and deliver our products, and even how we help customers dispose of old product.li
The Grand Designs beds collection will be available exclusively at DFS.co.uk and in DFS stores from 23rd March 2022, with prices starting from £1,549.