Remember when mixer taps in the kitchen were first all the rage? Separate hot and cold taps suddenly seemed so out of date? But since then, not much has changed - until now.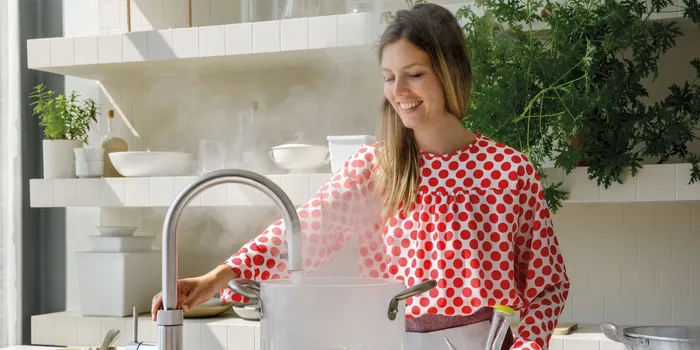 The Quooker tap is a game-changer, delivering instant 100°C boiling water on demand, making a kettle completely redundant. With a Quooker tap in your kitchen, you'll always have boiling, hot, and cold water, and now, with the addition of the Quooker CUBE, filtered chilled and sparkling water too.
Safety first
The thought of boiling water can be scary, especially when it comes to children. That's why Quooker has gone to great lengths to ensure that their tap meets the highest safety standards. A specially designed childproof double push-and-turn handle and insulated spout are used to dispense boiling water, while a separate lever operates the conventional hot and cold. These two completely independent controls mean that there's no mistaking their function. In addition, the flow of boiling water is delivered in a fine spray, rather than a solid flow, which further prevents the risk of any scalds or burns.
Save water and energy
We all know that we waste huge amounts of water and energy by overfilling kettles. A Quooker tap, on the other hand, only dispenses the exact amount of 100°C boiling water you need, precisely when you need it. There's no water wastage, and only minimal energy is used to keep the boiling water available on demand - so it's the perfect replacement for your kettle. If you add a Quooker COMBI, which has an 'A' energy rating, you also need never use hot water from your domestic supply for washing up ever again. With a Quooker tap and Quooker CUBE providing all your 100°C boiling, hot, cold needs and a constant supply of filtered chilled and sparkling water, you'll save gallons of water and significant amounts of energy every year.
"Once you own a Quooker, using a kettle seems like going back to the dark ages." M Thompson, Trusted Reviews.
For more information, visit Quooker.co.uk or call 0345 833 3333.