Reduce, Reuse, Upcycle: How Self-Builders can support the circular economy with the K-Briq®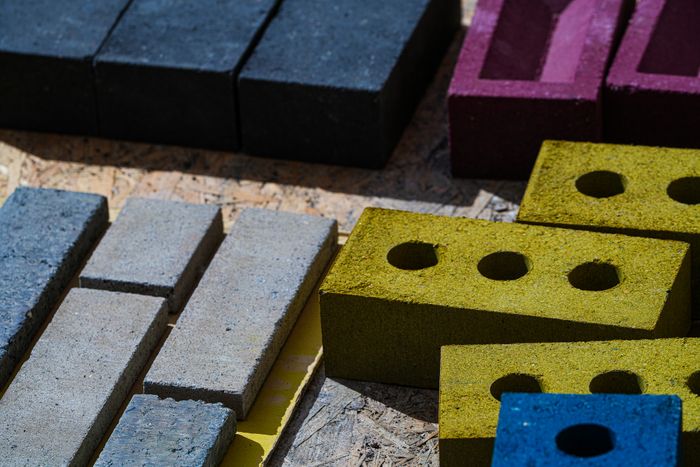 The 2020s have been identified as 'the decade of delivery', a time for meaningful sustainability and environmental programmes to break ground and get going. Sustainability efforts, by necessity, are evolving. Exchanging plastic straws for paper ones and such tactical and piecemeal methods are yielding to larger, more holistic ambitions. Meeting the UK's Net Zero goals by 2050 is going to require systemic and widespread adaptations, including the very conception of our economy.
In our current linear economy, resources are extracted from the earth, turned into products, that become waste, then are thrown away. Rather than viewing a product or process in isolation, a circular economy approach will emphasise a holistic view, how the product fits into the broader context, and how sustainability can become the focus at each step of the supply chain.
The circular economy has three key aims: to eliminate waste and pollution, to circulate products and materials, and to regenerate nature. What makes this approach so important is that it accepts the climate emergency as its foundation and recognises that we can't keep harvesting resources as if there is an unlimited supply. More and more self-builders are choosing to make sustainability a key focus of their project. So how can self-builders use the principles of the circular economy to influence and inspire their designs?
Specifying the right building products and materials for your dream design is vital. It's important for self-builders to locate those companies whose ethos and principles match their own, including a commitment to the principles of waste reduction and decarbonisation.
We're incredibly proud that the K-Briq has been selected by Kevin McCloud as one of this year's Green Heroes for this year's Grand Designs Live in part due to our commitment to circular economy principles. To support the circular economy as you design your next project, here are three key things to keep in mind when you're selecting products for your self-build.
Waste not, want not
Maximise your use of renewable and recycled materials.
The K-Briq is the product of more than a decade of research into materials science. Like many designs, it began by addressing a problem: what are we going to do about all this construction waste? As an industry, construction produces 100 million tonnes of waste each year. That's a staggering one-third of the UK's waste. To reduce this enormous figure, we can't simply build fewer houses.
The result of extensive research and testing is the K-Briq, a revolutionary brick that is made from more than 90% construction and demolition waste. Our manufacturing process requires less than a tenth of the energy used for clay fired bricks while our production methods produce less than 5% of the greenhouse gases generated by conventional bricks.
Think Locally, Act Locally
Consider the broader supply chain when selecting a building product.
The manufacturing model of the K-Briq demonstrates our commitment to the principles of the circular economy. Our bricks are produced onsite at a waste handling facility. Trucks bring construction waste into the facility which can then be cleaned, processed and made into K-Briqs within 24 hours of the waste's arrival. K-Briq manufacturing will expand as we franchise. Building partnerships with local waste-handling facilities across the UK means we can produce bricks at the point of need, unlike clay bricks which require hundreds or thousands of miles of shipping from quarries to the manufacturing site.
Transport miles for the K-Briq are significantly reduced compared to traditional bricks, and the amount of CO2 used in production is further limited. Trucks can collect K-Briqs when they drop off the waste material, minimising the number of journeys each truck needs to make.
With a network of such partnerships throughout the country, K-Briqs will have a supply chain of minimal distance. The UK is currently the world's number one importer of traditional bricks. By producing K-Briqs on-site at waste handling facilities throughout the country, self-builders will be able to support the development of their own community, flowing resources into local jobs and providing a local economic boost.
Form and Function
Discover new aesthetic possibilities from innovative building materials.
For self-builders, prioritising sustainability does not mean making sacrifices when it comes to aesthetics or performance, form or function. The K-Briq, for example, has a high thermal mass, which retains heat in the winter and keeps buildings cool in the warmer summer months, so heat and air conditioning costs and energy requirements are kept to a minimum.
Self-builders and architects alike have taken a shine to the K-Briq for its design flexibility. During the manufacturing process, each K-Briq can be crafted with recycled pigment into a great variety of colours, or even colour matched to accompany a particular palette. Unlike a traditional clay brick, this allows the K-Briq to fit seamlessly into a multitude of designs. You might select a hue that slips harmoniously into a complementary colour scheme. Or opt for a contrasting tone that makes an eye-catching, conversation-starting feature or facade.
Colour isn't the only flexible design option with this waste-saving, carbon-cutting brick. The K-Slip is a slimmer version of the K-Briq, in three distinct shapes. With the appearance of a brick but with considerably less weight and volume, the K-Slip adds a unique edge to interior settings, whether contemporary or industrial in aesthetic, and adds character to an outdoor kitchen or bar space.
The future is bright for self-builders that choose sustainability as the departure point for their project. The Kenoteq team commends Kevin McCloud's continuing commitment to championing sustainability in construction and design.
Come and see and feel the K-Briq for yourself on the Kevin's Green Heroes stand at Grand Designs Live!
Website: www.kenoteq.com