Introducing the Siemens Bean-to-Cup Coffee Machines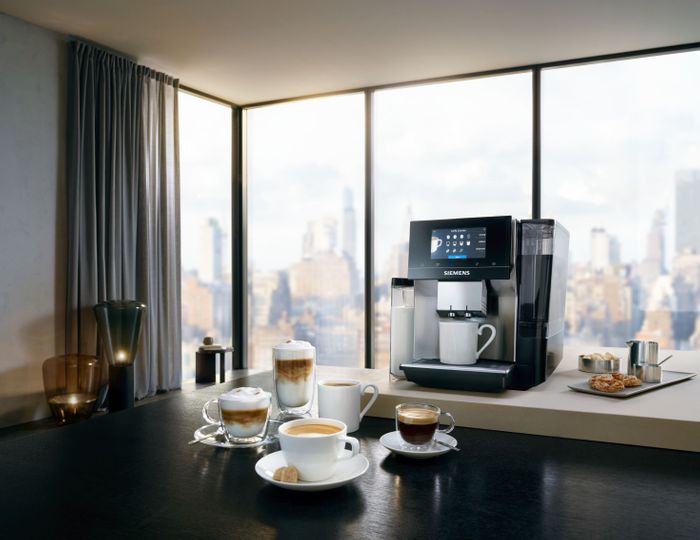 This range of EQ fully automatic bean-to-cup coffee machines for those who settle for nothing less than exceptional coffee. These intuitive appliances enhance any premium kitchen surface with their stunning design, elegant display panels and optimal usability. From the entry-level EQ.3 compact models to the fine-tuned, interactive EQ.9, rediscover your love for outstanding coffee with the new Siemens EQ range.
Thanks to the iAroma System, these Innovations seamlessly work together to guarantee the perfect coffee aroma:
High performance ceramic grinder: The precise and hard wearing ceramic grinder ensures coffee beans are ground to an even consistency, enabling the full aroma of the coffee to develop.
SensoFlow intelligent heater: Sensor technology ensures an optimal drink temperature is consistently achieved; enhancing the taste of every bean.
Smart water pump: Delivering the perfect balance of water pressure and water flow speed to extract maximum flavour.
High-quality brewing unit: All features come together in an advanced brewing unit that is fast and simple to clean.
Calc 'n Clean - Maximise beverage quality, machine lifetime and overall hygiene of your EQ coffee machine with this combined descaling and cleaning program.
OneTouch - No matter which coffee speciality you desire: latte macchiato, creamy cappuccino, extra-strong espresso, or something different, the OneTouch Function consistently and simply serves up pure coffee indulgence - at the touch of just one button.
Aroma Double Shot - For those who like their coffee strong. The Aroma Double Shot function gives you an extra-strong espresso and maintains a healthy aroma. The coffee grinding and brewing process is repeated, using a reduced amount of water to prevent bitterness and to maximise coffee intensity.
Brewing Coffee from your Smartphone - Today, our smartphones can do almost anything, and now coffee is no longer an exception. We are seeing a new era of coffee machines hit the market using smartphone technology to hone in the perfect brew. One big reason for our love of smartphones is their convenience. Imagine lying in bed on Sunday morning only to be woken up by the aroma of freshly ground coffee – what a wonderful way to start the day. Or maybe, you've got a big group of friends over and you subtly want to take their coffee orders. Pass your phone around the table and everyone's favourite coffee will be poured - one after the other.
Ceramic Flat Burr Grinders - The key to good coffee is consistent size of the grind. Flat burrs are renowned for giving you a very even particle size, hence why we put them in our EQ range. The uniform particle size gives you precise control over the coffee brewing. Even better, we use ceramic for our grinders instead of steel. Ceramic grinders are much less likely to burn or affect the oil balance of your beans as they are better insulators. Not only this, but they also retain their sharpness for considerably longer, so you can enjoy your coffee again and again without worrying about the burrs wearing out.