Fill your life with colour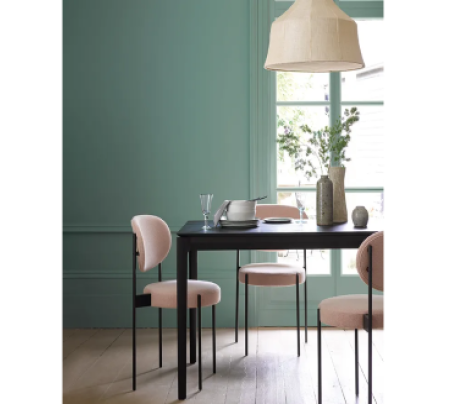 Get ready for a fresh look this season with the new Crafted range from Crown Paints
Creating a gorgeous home interior that is welcoming and uplifting in autumn and winter is key. Enter Crafted, Crown Paints' newest collection of premium paints designed for you to create a perfectly personalised home. Inspired by British artisans working with the finest quality natural materials, the range has been expertly curated to add more than just colour to a room, making beautiful spaces you'll want to spend more time in with friends and family.
RICH HERITAGE
Blending more than 200 years of paint heritage and the utmost colour expertise, Crown has created this distinguished collection of timeless, luxurious paints with only the finest ingredients. Offered in three finishes – flat matt, subtle texture and metallic – each with its own unique hand-selected palette of beautiful shades, the paints are both stylish and durable, living up to the needs of busy, modern life. The three finishes have been created to work harmoniously in a scheme to ensure extraordinary depth of colour, and provide the opportunity for bespoke effects.
VERSATILE STYLE
Choose the Luxurious Flat Matt emulsion with Breatheasy® technology for walls, ceilings and woodwork. Thick and creamy, this multi-surface formula provides excellent coverage and glides on effortlessly, making decorating a joy. "It creates a luxurious velvety finish that feels soft and warm to the touch, bringing refinement to any home," says Katie McLean, head of marketing at Crown Paints. You won't have to compromise on colour, either, as there are 48 refined shades, including a palette of gentle hues in tonal colour families that work beautifully alongside carefully selected richer shades that bring an additional layer of depth. And with such versatility, allowing you to paint from walls to wood seamlessly, there's scope to create the most striking decorating schemes such as matching colour on architrave, skirting, walls and doors.
PERFECT FINISH
For something a little bit glam, plump for the new Lustrous Metallic Finish, a gorgeous shimmery emulsion ideal for a striking feature wall or a statement effect, such as painting around door frames. It comes in eight vibrant shades that have a brilliant shimmering finish resembling the shine of a metallic surface. Finally, designed to complement the other two finishes perfectly, Subtle Textured Finish, with a wonderfully soft suede-like brushed effect, is available in two timeless colour palettes of greys and neutrals.
FIND YOUR PERFECT SHADE
Find the perfect colours for your home with these 100% accurate Real Paint Swatches. Specifically developed for the CRAFTED by Crown collection, these real paint swatches are available in 8 sumptuous colour families. Pop them on the wall in any room to see how the colour changes in different light and at various times of the day. With no mess and no fuss, these real paint swatches are a great way to save on time, as you don't have to paint over them with your final colour choice. Versatile and compact, these real paint swatches can also be taken with you when you are out and about, shopping or picking fabrics and accessories for your home.
SPONSORS OF THE GREAT BRITISH BOX ROOM COMPETITION
Crown Paints will be the proud sponsor of The Great British Box Room Competition, which sees interior designers coming up with innovative room set designs to transform the small, sometimes unloved room at Grand Designs Live Birmingham 2021.