Charge Anytime – smarter EV charging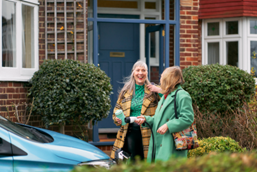 OVO Energy launched in 2009 with a mission to make energy fairer, greener and simpler. In the last decade, it's been developing smart tech with the aim of bringing customers on the journey to net zero.
That's where Charge Anytime comes in. It's OVO Energy's next generation EV charging add-on that rewards drivers for getting from A to B the greener way*.
When you add it to any OVO Energy plan for free, it unlocks a lower rate of 10p per kWh when smart charging from home. Customers who add Charge Anytime to their home energy plan can power their EV for less than £200 a year**. This intelligent tech also makes sure to charge the EV when the grid is greener. Smart for your pocket.
For more info on OVO Energy and Charge Anytime, visit www.ovoenergy.com/electric-cars/charge-anytime
* Our smart tech will aim to charge your car at a time when the grid has more renewable energy in it. Meaning it's less likely your EV will be charged by energy from fossil fuels.
** The £200 claim is based on an average Charge Anytime customer using 1,750kWh a year to charge their EV using the Charge Anytime add-on (the rate on 17/02/23 is 10p a kWh for Charge Anytime charging). Actual amount for driving for a year is £175. Individual savings will vary based on your vehicle efficiency, driving style and EV charging usage.