Catnic® launch a new concept in building extensions and garden rooms at Green Living Live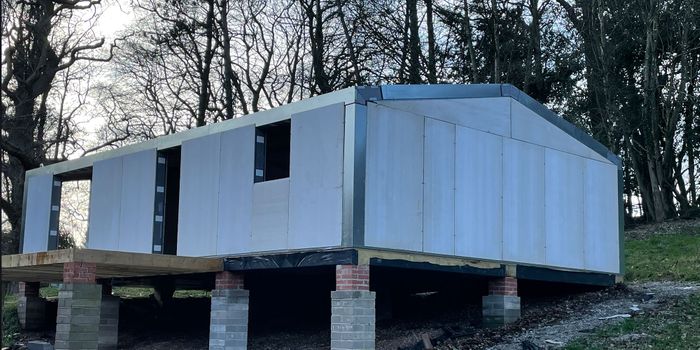 Catnic® a brand synonymous with lintels, and a name you can trust in residential products, will be launching a new concept in building extensions and garden rooms at Green Living Live, a show debuting this May alongside Grand Designs Live. Catnic® Matrix is a pre-fabricated panel system that is quickly and easily put together like lego, onsite, to form an airtight superstructure in days that conforms to the new Part L regulations.
The roof and walls of your new project are then finished with our Catnic® Urban standing seam roof (formally Colorcoat Urban®), a modern-looking, quick-fit system that is seven times lighter than standard roof tiles. The roof can easily accommodate solar panels.
For the walls, they also offer a range of other options from render to slip brick or steel. Their stand is constructed from this revolutionary system so you can see how easily it all goes together.
Catnic® Urban has been used on countless residential projects for both roofs and walls, including 5 houses featured on Grand Designs 'The Street'. There is no limit to the variety of shapes and forms that can be achieved, all designed meticulously to help you create a stunning exterior or roof, whether you are looking to stand out from the crowd, blend seamlessly in with your surroundings or transform your existing build into something more modern.
Catnic® provide technical assistance at the design stage and at the start of the installation, and supply the necessary equipment for installation. Catnic® Urban roof and wall systems must be installed in accordance with our recommended requirements and all installers must be Tata Steel trained and approved. They offer a training course to all installers to ensure every installation achieves the maximum performance.
Visit them at stand Z3 and see for yourself how easily it all goes together.