All year outdoor relaxation with Hydropool - Sponsor at Grand Designs Live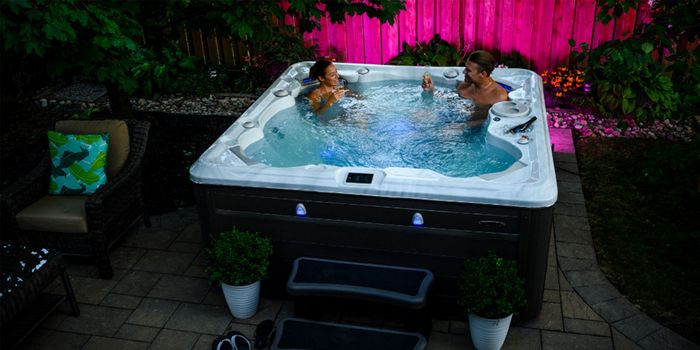 As proud sponsors of Grand Designs Live, Hydropool are delighted to have secured priority orders of the most sought-after models, alongside a limited number of production slots for customised orders exclusively for the show, allowing them to deliver as early as spring and summer – and all with manufacturer-backed rebates to pass on to their customers during the show period.
Grand Designs Live provides the ideal opportunity to see Hydropool's products up close, including the Signature Self-Cleaning Hot Tub collection that filters 100% of the water in only 15 minutes. You'll also be able to seek expert advice in finding the perfect hot tub or swim spa for you and your needs. Whether you're looking to enhance your wellbeing or utilise the incredible power of Hydropool's hydromassage programmes, their hot tubs and swim spas are one of the best investments you'll ever make.
Why Hydropool?
Over 40 years ago, a father and son had a vision of how the power of water could play an instrumental part in a family's everyday life. With their extensive background in swimming pools, they decided to expand their business to include both hot tubs and, eventually, swim spas.
Starting as retailers with a company called California Spa, Sauna and Fitness in 1978, they were the first retailer of hot tubs in Eastern Canada. Realising the potential to improve people's wellbeing, they formed Hydropool in 1980, which quickly became one of the largest manufacturers of hot tubs in North America.
In 1995, Hydropool saw the potential of Swim Spas and began manufacturing the AquaTrainer. Fast forward to today, and Hydropool's growth has reached over 400 independent retailers in 60 countries.
Here in the UK, Hydropool are the longest established dedicated supplier of hot tubs & swim spas in the country, serving customers since 1997 with 29 specialist stores nationwide. They understand the power of water and the positive impact it can play in living our lives. Their focus has always been their commitment to their customers, offering the highest quality products with industry-leading customer care.
Fit for professionals – In support of our GB swimmers, Hydropool UK provided James Guy & Ben Proud with swim spa training units for their home gardens, enabling them to continue training for Tokyo 2021 during lockdown.
As people continue to invest more in their homes, the desire for their product remains at an all-time high. If you're shopping for a premium brand hot tub or swim spa, you will no doubt know that current lead times are considerable as the industry responds to the demand.
Manufactured in Mississauga, Ontario, Canada, by experienced designers and engineers, Hydropool Industries recently added a new 66,000 sq. ft. swim spa manufacturing facility and a new 101,000 sq. ft. parts distribution warehouse for continued expansion to meet all our consumer's needs.