Inno-therm by Recovery Isulation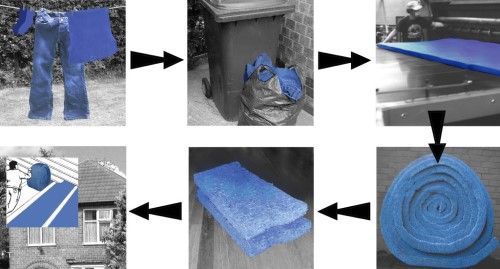 Inno-therm is a low carbon 'eco' thermal/acoustic thermal and acoustic insulation made from recycled cotton/denim fibers - reduces textile waste and improves home air quality. Thermal conductivity of 0.039 Wm-1K-1 - U-value of 0.16W/m2K for lofts, timber frame walls, and sarking. @ 240mm; and efficiently allows users to reduce stud sizes in timber frame construction. Easy to install/non-itch, non-toxic – will not cause allergic reactions. Behaves as a hydro regulator as it can absorb & release water vapor.
Product dimensions: 120cm/60cm/100mm
Company description: Recovery Insulation Ltd. is a social enterprise/for-profit share capital company established in 2002 by Schools & Homes Energy Education Project/Solar-Active with support from the Sheffield Community Enterprise Development Unit (SCEDU). We have had financial support from Business Link South Yorkshire High Growth Start-up, Enventure Landfill Tax Credit Scheme/Parkwood Environmental Fund, UK KTA/TSB grants, and others.
Website: www.inno-therm.com
Email Address: info@inn-therm.com
Telephone: 01142587639