Amy O'Raw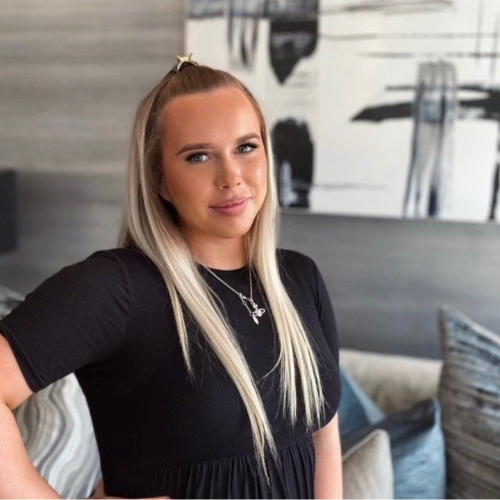 With 8 years of knowledge and passion, Amy loves to see her schemes come to life. With a special eye for bespoke design your home will feel tailor made. Amy's devotion to seeing a project through to completion guarantees an exceptional interior.
Advises on:
- Providing advice on the interior layout of a space/building and proposing reconfigurations.
- Generating 2D or 3D interior design plans, drawings, mood boards and project visualisations.
- Curating a considered selection of Furniture, Fixtures and Fittings (FF&E) required for implementation and procurement.
- Supplying projected timelines and product schedules to coordinate trades, purchase orders and deliveries.
- Being the point of contact for construction contractors on site, as well as consulting with engineers, architects and trade specialists.
Company Name: Penny Ann Interiors
Having always had a special eye and love for interiors, Amy spent 4 years studying Interior Design and has been working for Penny Ann Interiors for a further 4. As an interior designer, Amy's enthusiasm and passion for Interior Design has been proven over the years, while working with clients on turn key projects. During her time with Penny Ann Interiors, an award-winning company, Amy has demonstrated great pride in each project that she works on, right from the brief, down to the end result. As if it were her own home, Amy is devoted and tailors the design to each and every client. For Amy, it is important the end result will not only surpass expectations, reflect the client, but that the client will be left with a special home they will love.
Company Description:
Established in 2016 when Penny realised it was now or never, Penny Ann Interiors began its life as a dusty collection of fabrics books that Penny had lovingly collected and stored through her years in the industry. With no financial support but a passion and will to succeed that pile of books turned into a small studio, some fantastic staff, and some very happy clients.

Almost 7 years later, in our new beautiful listed building, the studio has flourished, the staff have over achieved and our clients have literally cried happy tears on handover days.

We are a personable, passionate and preeminent team that look forward to helping our clients. Our enthusiasm and passion for interiors comes across in our attention to detail and eagerness to look at every aspect of the project. From initial concept with architects to final styling details, each decision is crucial and vital to the overall project. We love building great communicative relationships with our clients that enable us to realise their vision.