Handmade Natural 5000 Pocket Mattress & Ottoman Divan Set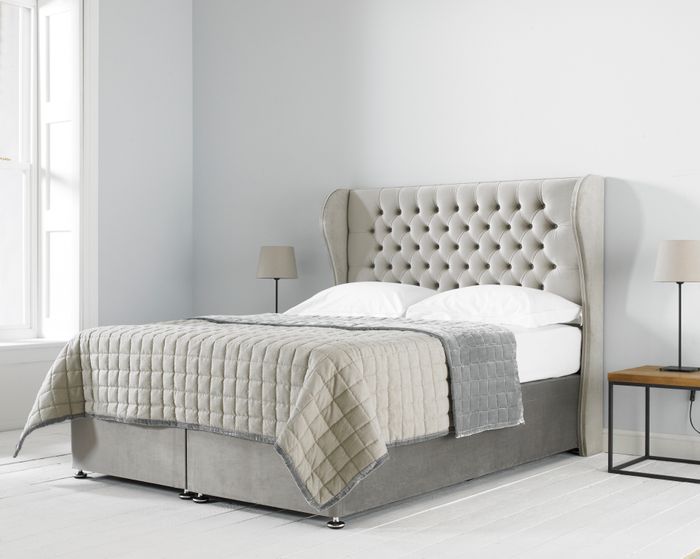 Prize description: Ottoman Divan Base system. Featuring a padded and reinforced construction as standard, the H Living ottoman divan is designed with luxury and strength in mind. As well as being built to last, the ottoman base is expertly upholstered in a premium quality fabric. Ottoman bases are ideal where space is an issue, as they do not require any extra room, whereas a drawer divan needs additional space on each side for the drawers to open. Using the cut-out handles at the foot, you can raise the top of the base and mattress with ease, thanks to an internal gas piston mechanism.
The impressive design of the H Living king size headboard and its premium fabric make this a superb addition for the home. Tall and imposing, it features a floor standing design that's more robust than strutted models and won't move back and forth when you rest against it, and will enhance the look of the master bedroom.
The Natural Collection mattress fuses every luxurious filling available for a perfect mattress tailored for you. This is the epitome of luxury available in an 5000 spring count and a medium finish. The product is offered with 3 rows of hand side stitching. The mattress is finished 100% viscose and hand tufted. The mattress is layered with wool, horse hair, organic wool, bonded cotton and wool.
Company description: H Living was established in 1997 branching from a sister company to provide a service to our customers in ways other companies are unable to. Originally started as a pine bed supplier it soon began to pioneer other domestic bed products within the market. Constantly adapting and changing to an ever emergent environment. The company, over the last 4 years Hyder has shifted the focus of the operation in to more specialist products such as Natural Mattress Products, care homes, hotels, apartments and student mattresses. The wide nature of the client base Hyder has shown that the company has experience in various fields of an ever divergent market.