How to brief your builder for a renovation project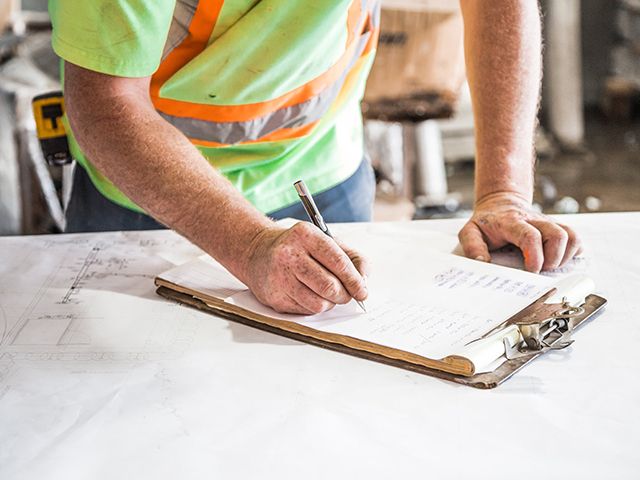 Open the lines of communication early on, say the experts, to ensure a hassle-free build.
A successful home renovation project depends on good communication, so establishing this working relationship from the get-go is important. If you have any concerns before, during or after building work takes place, make sure you raise these concerns with your builder as soon as possible.
If you're unfamiliar with working practices including tradespeople, here's a handy guide in what you should expect from briefing your team for your build.
Start early
While you don't need your plan of action to be fully developed at this point, having a clear idea of what you want the project to entail is key – as much detail as possible will help you have clear, concise conversations with prospective builders at this point. If you're working with an architect, show these to your builder while briefing, as this will help their quote accuracy. Some building companies also offer a complete design and build service, which means they can start from the very beginning to bring your ideas to life.
Research
As well as researching any prospective build company to check reviews and whether they're members of credible trade associations such as the Federation of Master Builders (FMB), you should also look into the responsibilities which fall to you as a homeowner that is commissioning building works.
Budget
Having an idea of how much you can afford and how much you want to spend is important before you get too carried away with a builder. "Remember to take additional expenses into account, such as the cost for decorating and painting, new appliances, new flooring, parking permits, etc," explains the FMB. "Unless these are included in your builder's quote, you should ensure you allow for these expenses, which can add up." Always plan in a 10% contingency into your budget for unexpected works.
Be clear with the specifics
Small details can end up having a large impact on the brief, budget and timelines. Whether that's a brick-type, the styles of doors and windows all the way down to your choice of light switches and kitchen and bathroom faucets. Agreeing on these details in your brief can go a long way to determining the full quote price and helps to stop unexpected costs from occurring if you change your mind part way through a project.