Grand Kitchens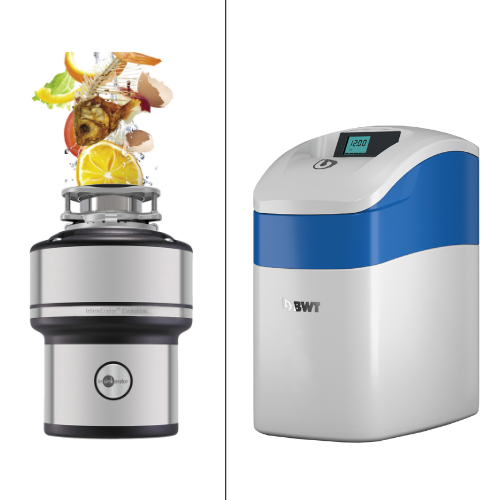 Product 1: InSinkErator® Evolution 250 food waste disposer
The InSinkErator® Evolution 250 food waste disposer allows inedible food waste to be disposed of safely and hygienically, reducing food waste and lingering odours in the kitchen bin, especially where home composting isn't possible. As a convenient solution to managing food waste in the home, the Evolution 250 fits neatly under the sink, without compromising the overall look of the kitchen.
Company description: InSinkErator®, part of Whirlpool Corporation, is the world's largest manufacturer of food waste disposers and the clear global market leader. InSinkErator® invented the food waste disposer over 90 years ago, offering consumers a hygienic solution to manage food waste in their homes and as an alternative to composting where not possible. Today InSinkErator® has a range of models, designed to suit different family sizes and home cooking needs. InSinkErator also manufactures specialist kitchen taps that are designed to streamline the kitchen, by removing the need for a kettle. InSinkErator® specialist kitchen taps are available as a combined fixture or stand-alone additional tap, in a number of shapes and on-trend finishes. The latest innovation from InSinkErator® is the 4N1 Touch tap that offers instant filtered steaming hot water, instant filtered cold water and regular hot and cold water from one combined fixture.
Website: www.insinkerator.co.uk
Product 2: BWT Perla Silk - Water softener
The BWT Perla Silk (PS10UK) is a modern and stylish electronically controlled Ion exchange water softener. Designed to complement today's busy lifestyles, and to deliver copious amounts of perfectly softened water efficiently with very low levels of water and salt consumption. Tough on scale and scum it is the perfect addition to any Grand Design project wherever the water hardness exceeds 100 ppm.
Company description: Since it was founded in 1990, BWT has been dedicated to its vision of perfect water. Today, this passion has enabled us to become Europe's leading water technology company.
The technical expertise in all areas of water purification makes BWT unique. Their in-house research and development departments, and the expansion of production facilities throughout Europe, have contributed significantly to the progress they have made, with their sights permanently set on achieving maximum safety, hygiene and health in their daily contact with water, the elixir of life.

Innovation by BWT
For decades, BWT had but one goal in our sights: to improve the quality of people's lives wherever water is concerned – and to do so with custom-tailored water treatment solutions that deliver water of the highest quality. They don't restrict ourselves to standardised, of-the-shelf products, rather we're the ones who consistently set new standards in water technology. In keeping with their philosophy of "Feel – taste – see the difference", they offer our customers products with real innovations, such as drinking water with the extra enjoyment and vitality factor, silky-soft Pearl Water as a beauty elixir, or water in its purest form as an essential component of high-tech applications. Feel, taste and see the difference!
Website: www.bwt.com