Grand Interiors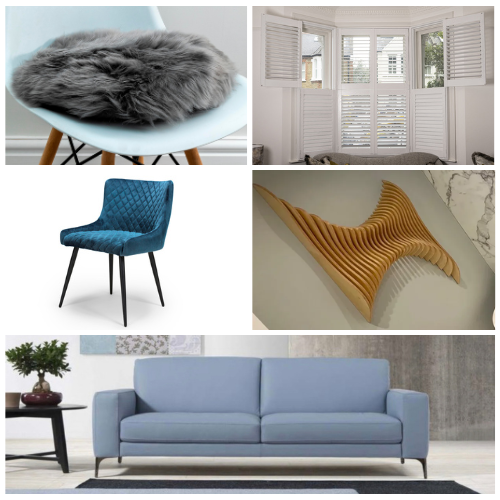 Product 1: Grey round sheepskin chair pad from Native Natural
The Native Natural luxurious genuine sheepskin seat pads can make the hardest of chairs comfy, they are available in a range of colours to suit your furniture. The New Zealand wool is both warm and tactile, they look great whilst serving a purpose.
Benefits of Native Natural Sheepskin products:
• Regulates temperature
• Contains lanolin, which kills bacteria and mites whilst providing insulation
• Keeps it's shape
• Can be used all year round
• Helps with healthy blood circulation
• Hypoallergenic
• Durable
Product Size: 40 x 40 x 4cm
Company description: Native Natural is a homeware brand with a completely natural approach, our aim is to create collections of products that are both sustainable and look amazing. Since their launch in 2021, they have expanded from merino wool and sheepskin and now have stunning homeware pieces available in goatskin, cashmere and jute.

Their homeware story began with Native Home & Lifestyle, which has focused on forward thinking, trend driven furniture. They have similar plans for this brand, although we aim to make it as ethical and natural as possible.

All their products are designed and picked with the idea of being sustainable, that is why we have started by launching Merino Wool and Sheepskin products. Merino is one of the most ethical types of wool available and every product we make will be processed in an environmentally friendly way.

Having been a part of the wholesale furniture industry for many years, we thought it was only right that we delved into the world of retail. Native natural are incredibly passionate about good quality homeware and take great pride in the furniture they sell, Native Natural has given them a chance to try something different and provide more unique home décor pieces.

Although their business has grown and allowed us to broaden our ideas, our original purpose is still the same – create eye catching furniture that will last. They want people to be excited to show off your Native Natural pieces and be able to explain that they are ethically sourced, you can make good choices for our planet whilst adding a modern twist to your home.Website: www.nativenatural.co.uk
Product 2: Mimeo composite shutters from Shutters Factory
An all-round option for most windows and for humid conditions as in the UK, the Mimeo Composite Shutters are hardwearing and have state of the art new materials with an aluminium core for strength. They are 100% waterproof, making them an excellent choice for rooms where there is high humidity, moisture (kitchen, bathroom).

This range offers the best value and can be supplied and installed in up to 5 weeks. The Mimeo Composite Shutters are covered by 10 years warranty.
Company description: Shutters Factory is a family-run business dedicated to offering our customers the highest quality window shutters on the market since 2010. They manufacture, sell and install made-to-measure durable, beautiful shutters providing privacy, light control and insulation, making them a practical and stylish choice for any home.
Website: www.shuttersfactory.co.uk
Product 3: Malcolm dining chair
The Malcolm chairs is a great addition to any dining space. Upholstered in a beautiful blue velvet fabric in a selection of colours. It features an elegant quilting detail on the back and seat. This model includes elegant slim black legs that provide sophistication in this modern design.
Company description: Cadira offers a unique contemporary furniture collection, with many exclusive designs and some very innovative solutions. Their dining range features innovative materials such as Dekton, and are available in large formats in both extendable and fixed versions. Their sofas are made to order in a great array of sizes, configurations and colours. Visit their stand for exclusive discounts at the show.
Website: www.cadira.co.uk
Product 4: Piece of wall art made from FSC certified quality hardwood Birch Ply
Made in a boutique workshop in the Cheshire countryside the Venusto wall art model 2.3 shines on its own, yet also follows a series of similar forms that flow together and merge into non-dualistic relationships.

Knight's Wood Studio have a core design philosophy that is rooted in timeless elegance blended with futuristic, bold, and innovative forms. Positioned at the intersection between phenomenology and metaphysics, these designs are an exploration of the world around us and within us, which are fundamentally the same.

The Venusto collection features composed organic shapes with the absorbed complexity of stretched fluid forms. These inspirational diffusions are reminiscent of morphogenesis, the biological process that causes an organism to develop its shape.

Hand finished in FSC certified Birch plywood, Venusto model 2.3 composed of 27 individual parts that combine together to form a distinctive unique piece of beautiful wall art.
Website: www.knightswoodstudio.com
Product 5: Ginevra by Ego Italiano - Two seater sofa
Displayed in a charcoal grey Italian fabric from the ginestra collection. Simple clean lines matched with superior comfort make the "Ginevra" by Egoitaliano and timeless model.
Website: Www.egoitaliano.com