Design Arcade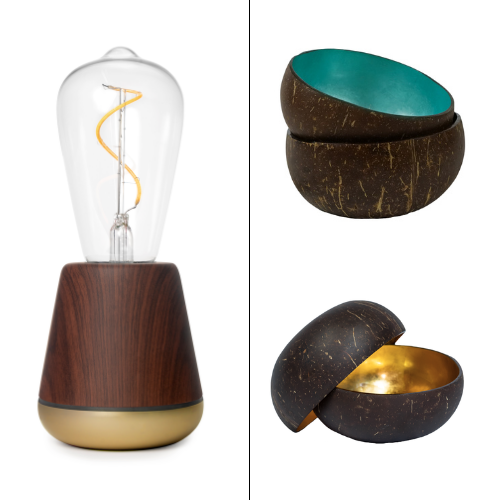 Product 1: Humble one walnut smart table light from Pad Home
The smart version of the Humble One table Lamp, connects to most smart home lighting systems including Philips Hue, and Tuya, this light once fully charged can run for up to 140 hours before needing recharging.
Product Features include:
Up to 140 hours of light form one charge
Wireless charging
Smart Home Enabled
Company description: Pad Home is the home of contemporary design bringing the best design form around the world to the UK.
Website: www.padhome.co.uk
Product 2: Love Coco coloured lacquer coconut bowl
Upcycled coconut shells, handmade into beautiful coloured lacquered bowls, ideal for healthy eating. The bowls are waste from the coconut harvest, previously burnt, now hand crafted into a sustainable, organic eating bowl.
Company description: Love Coco started in Ibiza in 2017, inspired by the natural lifestyle and food in Ibiza and the desire promote the future of our planet. The Love Coco bowls became a must have item in many homes both in Ibiza and across Europe as tourists embraced the ideology converting natural recycled coconut shells, into beautiful bowls. By helping the future environment and reducing global warming, we are all becoming more eco. This growing army of customers is growing year by year, as are the organic shops and quality home and gift shops, who profit from selling their bowls, will testify.

They started selling in the UK over the last 24 months, despite the Covid hiatus, at events, shows and Christmas markets and looking to establish sales to stores throughout the UK in 2023. They have proved hugely popular. Love Coco are pleased to be finalists for Gift of The Year 2023 in the sustainable gift category.
Website: www.lovecoco.com