Leverint Lighting: Our Story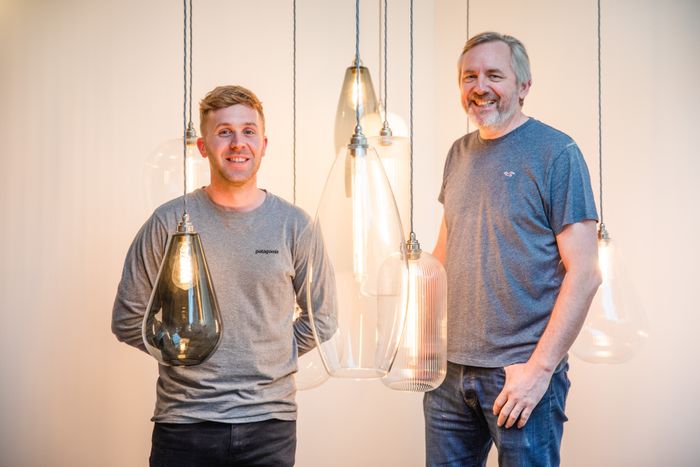 OUR STORY
Doesn't everyone love a lightbulb moment? This is exactly what happened when Andrew lead designer and John head glassblower met for the very first time.
For over a decade Andrew had engaged in a career of lighting design; heavily influenced by various architectural interior concepts and contemporary design, he wanted to invest his passion and insight into a new venture. It wasn't long before one chance meeting with an inspiring, skilled glassblower became the catalyst in a new and exciting enterprise.
Pairing expertise, experience and innovation Andrew, John and his sister Lee brought the concept of Leverint Lighting to an engaging reality; cultivating a fine range of iconic pendant design, bespoke multi pendant clusters and wall and surface mounts for an extensive range of interior styles and concepts to suit and be accessible to all.

With a wealth of success over the years, our co-founders introduced new team members to our Leverint fold, branched out with a plethora of innovative lighting designs and opened up another headquarters based in Worcester specialising in custom bespoke design, with our lighting design team leading the helm. They now embrace clients from all over the UK and around the world.
What sets Leverint apart?
The true secret behind Leverint's whirlwind success boils down to numerous components; bespoke, British craftsmanship being on the very top of that list. Specialising in modern classical and contemporary styling, Leverint combines the classic art of glassblowing with highly creative lighting design, enabling fittings and lighting solutions for industrial, modern, contemporary, through to art-deco, vintage, plus many more style interior concepts.

The ability to combine both design, production and assembly under one roof, allows Leverint to create all styles of lighting for our clients, meeting their exact specifications and their bespoke process is the gateway to the most unique, creative experience of them all.
Fortunate to operate our own glassblowing studio can carry out the single, most important element of the creative process by a team of expert glassmakers within our own workshop and production facility.

There's no compromising on quality either, by opting to steer away from lower-quality glass imports, we express a large sense of pride in crafting creations solely out of our London workshop. It comes with the assurance our customers, clients and designers are granted the highest standards in all aspects.
Fulfil your maximum lighting potential
Customising your light doesn't have to stop at a choice of pendant or cluster, from the beginning our team at Leverint made it their mission to expand on personalisation as much as possible. Our handmade ethos and in-house production allows us a great degree of creative freedom when it comes to new and daring luminosity, it also gives us and our clients the world of choice when it comes to options.
From ribbed, clear and coloured glass profiles, luxurious hand-plated metalwork, silk flexes, stylish bulbs we curate a lighting finish unique to you and your inner style.
Leverint covers lighting for bedrooms, kitchens, stairwells, bathrooms and any other living concept, along with hospitality restaurants, eateries, hotels and office, retail spaces amid various other commercial environments. Let our passionate team unleash your imagination for novel illumination that delights and completes your space down to the very last detail.