01 Jan 2023
Greenspace Architects gain Planning Approval in a World Heritage Site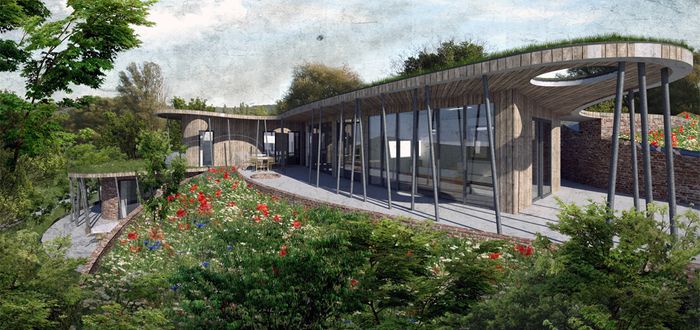 Jaspers Orchard is a proposed modern eco-house located with the Ironbridge Gorge. The area is protected by World Heritage Site status and is situated near to several listed buildings within the Conservation Area.
The site is steeply sloping with significant tree covering collectively protected by their Conservation Area status. We have sympathetically designed the house to intertwine with the landscape to create carefully crafted spaces whilst also protecting the sensitive ecological constraints of the site.
Starting with a pre-application in 2017 to the local planning authority we have taken several years to develop the proposal from an initial sketch concept into an honest contemporary house.
We were able to demonstrate to the local authority that a modern design could be accommodated by embedding the house into the slope and introducing sedum and moss roofs. The impact on the historic environment and listed buildings was therefore mitigated. Planning permission was granted via planning committee in June 2021.
The council's conservation officer said it was "difficult to design" any home for the site that "does not harm the views to and from the listed buildings below it". We have demonstrated to the planning committee that we have managed to overcome any concerns raised and the modern design will be an asset to the World Heritage Site.
The construction is to be of high performance ICF with the aim to achieve as close to Passivhaus standards as possible whilst incorporating Air Source Heat Pumps with an MVHR system. Rainwater and greywater harvesting will be further utilized. Photovoltaic panels were initially included but were considered too visually intrusive on the WHS and were therefore removed.
The 159m2 house includes an open plan living space, 3 Bedrooms, a motorbike store and a workshop for the clients, one of whom is an artist who will be able to live and work within this new home.