Grand Opening of Herschel's UK Production Facility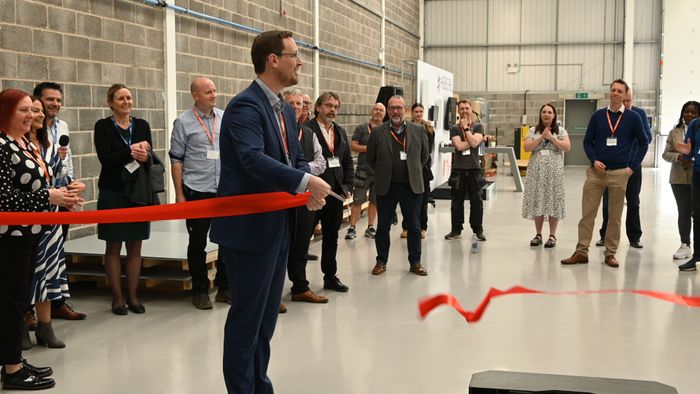 UK PRODUCTION FACILITY OFFICIALLY OPENED
In May 2023 the UK Production Facility was officially opened by Darren Jones, MP for Bristol North West and Chair of the Business and Trade Committee, who ceremoniously cut the ribbon to mark the occasion. This investment shows our efforts to continuously promote this fantastic technology and lower embodied carbon in production as we transition to Net Zero..
GUEST SPEAKERS
We were delighted to welcome our guest speakers - Jade Lewis, Chief Executive of the Sustainable Energy Association (SEA), Dr Richard Hall, Sector Specialist Advisor – Sustainability, Mobility & DSE – Department for Business and Trade and Simon Pugh-Jones RIBA, Chair of Bristol Diocesan Advisory Committee and Contributor to the Church of England's Route Map to Net Zero.
It was fantastic to hear all the contributions from our guest speakers, they spoke on how our UK Production Facility will not only provide prosperity for the UK economy but also provides a significant opportunity to decarbonise heat in buildings as we strive to reach our Net Zero targets.
SUMMARY OF PRESENTATIONS
Jade Lewis spoke on how energy is very much a hot topic for the UK right now, how an Energy Efficiency Taskforce has been set up to help cut energy consumption by 15% by 2030 and decarbonising heat will need to play a central role. The SEA recognises there is no silver bullet to decarbonising the UK's buildings and that a range of technologies will be required. Jade commented on how the increase in capacity that our UK Production Facility offers will help "progress the delivery of low carbon heating and bring us slightly closer to delivering that ever so important Net Zero target".
Richard Hall discussed how the setup of facilities such as the Herschel UK Production Facility helps secure the welfare of the UK and prosperity within it. He also shared his thoughts on our Herschel Infrared heating technology, "how people really want it, and they are demanding it. And how, even if the government isn't quite on their side, people are still buying it. And I think that really says, it's the proof that people like this technology. They want it. It fits in with their lives. It fits in with the way they renovate their homes. And it avoids the whole "we need an army of people to go into people's houses and retrofit them".
As part of our opening day and premises tour, Paul Morey, CEO of Herschel Infrared, discussed the continuation and growth of our UK infrared panel production and also our revolutonary Halo heater, designed specially to heat churches and heritage buildings.
Canon Simon Pugh-Jones has been instrumental in the development of Halo with Herschel and his speech on the potential that Halo has to offer churches in achieving Net Zero was fascinating. Simon captivated the audience as he shared feedback on the installation of Halo at St Matthews Church, in Bristol, describing "four Halo heaters installed just before the last heating season, which have been the sole heat source for worship throughout what turned out to be quite a difficult winter. I've demonstrated that trial to at least 180 people from other churches, other dioceses. It's got to be well over a thousand, it might be over 2,000 people who have been to services and events where Halo has been the heat source. The feedback from them has been overwhelmingly positive".
Darren Jones MP (below) closed our presentations and spoke about how our new UK Production Facility "is a great case study for what we need to see happening in the British economy more broadly".
FULL PRESENTATIONS
Watch the presentations in full on our YouTube at www.youtube.com/@Herschel-Infrared