Our FREE Pricing Tool Can Help You Calculate Your Roof Costs Today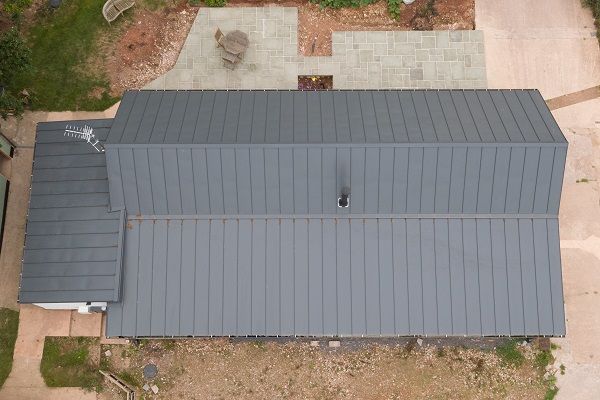 Standing seam metal roofing is growing in popularity in the UK, especially for residential properties. While there are a number of different metals to choose from, zinc, aluminium and steel are the most common as materials such as copper often prove too expensive both to purchase and install.
Get a free estimate today by visiting
www.catnic.com/products/catnic-urban-roofing-and-cladding/get-an-estimate
Metal roofing offers an alternative to more traditional systems, providing a different aesthetic and excellent versatility. However, there are a number of differences between the materials and it is important to consider which meets the requirements of the project.
Durability
Zinc, aluminium and steel roofing all offer excellent levels of durability. The self-repairing surface properties of zinc and the naturally occurring protective oxide coating on aluminium are commonly seen as benefits of those materials. However, modern steel roofing manufacturing techniques mean that it has a longevity that rivals the other two.
Our Urban panels, for example, are made from Colorcoat HPS200 Ultra pre coated steel with an optimised Galvalloy® coating for exceptional corrosion resistance and edge protection, while the outer coating incorporates advanced UV resistance to ensure the roof retains its colour. As such it has a 25 year Confidex Home guarantee, offering you a fully comprehensive guarantee superior to that of other roofing material and giving you the security of direct protection from Tata Steel. Furthermore, in contrast to zinc roofing that due to the softness of the metal is susceptible to damage from falling debris and hail, steel roofing is very resistant to any impact.
Versatility
Another characteristic that all three materials share is versatility. Metal standing seem roofing can be used on both residential and commercial buildings and allows a wide range of roof shapes and designs to be achieved. This includes simple modern designs such as mono-pitch and saltbox style roofs as well as more complex profiles including butterfly, clerestory and double-pitched 'M' shaped roofs. Metal roofing also offers installation flexibility and systems such as Urban can be installed on roofs with a pitch as low as 5 degrees.
In addition, the coating used on modern steel roofing means it is available in a range of colours to suit many different applications – something that zinc cannot offer. Recognised by independent BBA certificate that the material used to manufacture Catnic® Urban will have durability for a period in excess of 40 years in normal urban, suburban and rural environments.
While the malleability of aluminium and zinc means that both can be formed into more complex shapes than are possible with other roofing systems, this requires specialist knowledge and techniques. This can prove costly, especially as the size and complexity of project increases.
Installation
Due to the properties of zinc, the installation process is more complex than the alternatives and does require a specialist roofing contractor to fabricate and install the system. This can significantly increase the overall cost of the roof as well as the time needed to complete the install.
In contrast, both aluminium and steel roofing systems can be installed by a more general roofing contractor, providing they have the appropriate training – we offer free Urban training sessions to installers. These systems provide an option that is both quick, and crucially, cost effective to install. For example, Catnic® Urban is seven times lighter than traditional roof tiles meaning it is easier and safer to handle on site. The quick and simple installation process not only reduces the overall build time but also minimises the amount of time spent working at height, and therefore lowers the risk to installers.
Cost
While zinc, aluminium and steel roofing are all more cost effective than materials such as copper there is still a difference in price. Of the three, zinc is the most expensive, both in terms of material and installation costs. This can mean that on projects where budgets are restricted zinc can prove cost prohibitive.
Aluminium is less expensive, but steel is by far the most cost-effective option due to the price of the material. Furthermore, the colour options offered by steel roofing means that the look of zinc or aluminium can be replicated at a lower price point.
Sustainability
Finally, with the environmental impact of buildings now increasingly important, the sustainability of materials is a crucial consideration. From a manufacturing perspective, zinc is often seen as environmentally friendly due to the lower melting point of the metal. This means less energy is required to produce it.
Both aluminium and steel are easily recycled at the end of the roof's lifespan. In fact, steel is 100% recyclable with zero de-gradation, ensuring a minimal cradle to cradle environmental impact. In addition, Catnic® Urban is manufactured in line with the BES 6001 Responsible Sourcing standards and has achieved a BRE Green Guide A+ rating.