'Aim For Love' by Dan Pearce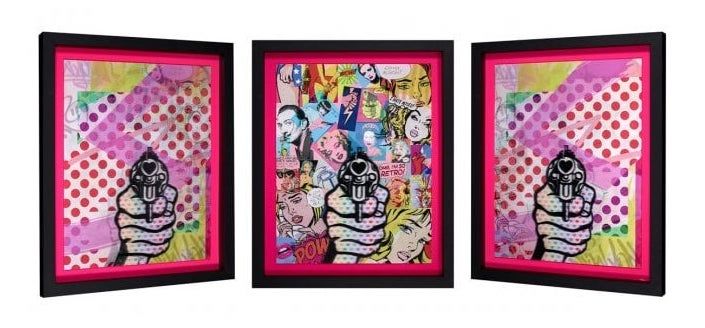 Part of the new "DNA" collection 'Aim For Love' is a 3D Lenticular.
'Aim for Love', part of his DNA collection, is a spectacular new lenticular limited edition from British contemporary artist Dan Pearce. The main image features a hand holding a gun against a Pop art inspired background adorned with famous faces, including master of Surrealism Salvador Dali, Hollywood icon Marilyn Monroe, Queen Elizabeth II, Albert Einstein and sixties supermodel Twiggy. As the viewer moves around the picture the background changes to one featuring a collage of bold and vibrant pattern in a bright array of colour. This dynamic statement piece, measuring 22 x 28" and released as part of an edition of 195, would make a bold and beautiful addition to any fine art collection.
https://www.youtube.com/watch?v=8MjZUbA5MLw&t=18s