15 Aug 2022
Acres Group at Grand Designs Live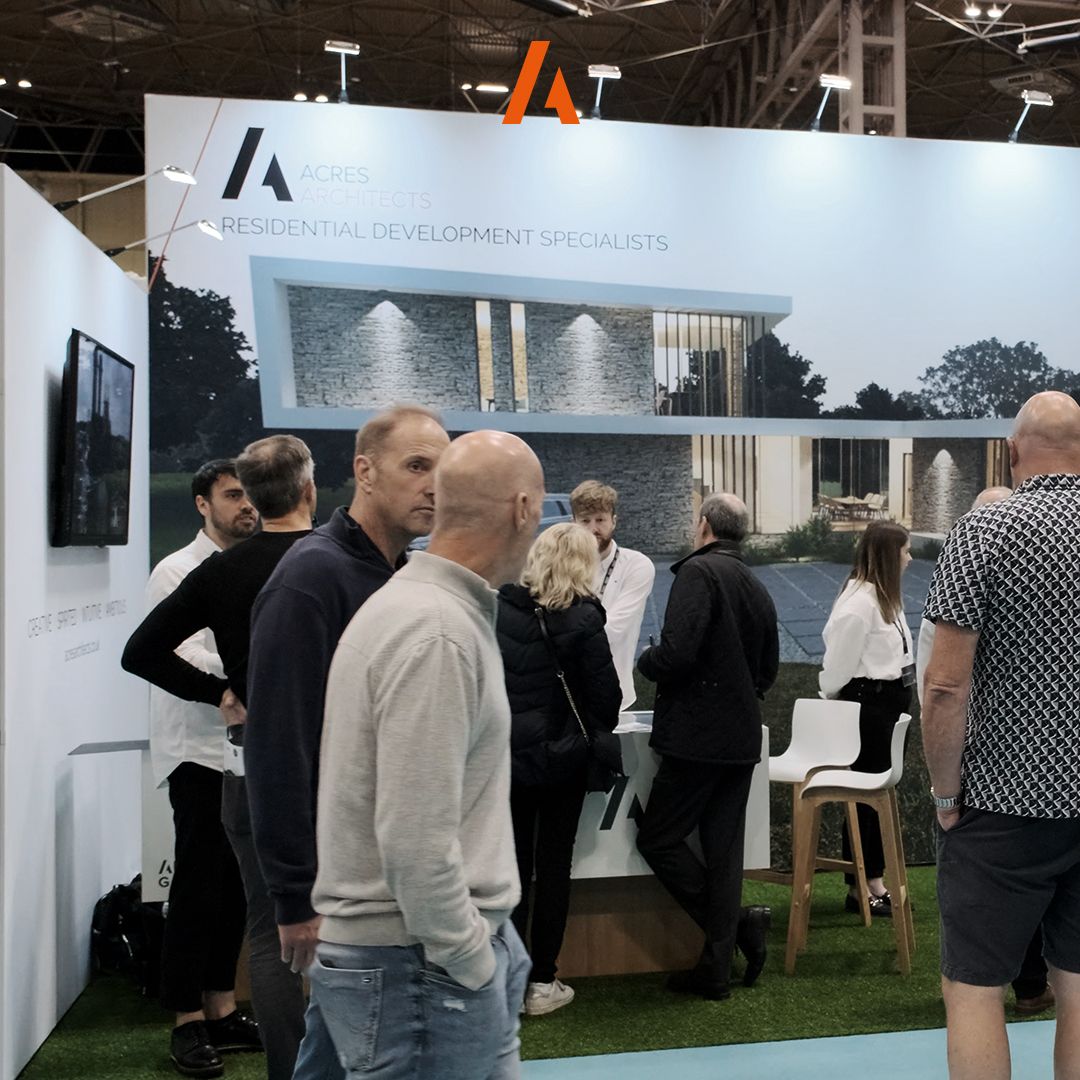 ACRES GROUP AT GRAND DESIGNS LIVE – STAND B40
Founded by multi award-winning chartered Architect Edward Acres, the Acres Group is now one of the few organisations within the UK that offer a holistic turnkey solution for investors and developers within the UK. Our individual divisions operate as stand-alone entities but uniquely, once combined, they create the UK's most financially efficient platforms for investors and developers.

ARCHITECTURE / DEVELOPMENTS / CONSTRUCTION / INVESTMENTS / MEDIA
Acres Architects are a multiple award-winning, RIBA chartered architects at the forefront of residential architecture.
Since 2008 we have specialised in commercial scale residential projects and are proud to work with private clients to help them build luxury homes. We're experienced in supporting clients with a vision for their new home, and we aim to minimise the stress involved so you can remain focused on the enjoyment and excitement. We make sure to avoid jargon and just speak plainly so you feel fully involved.
"EVERYTHING WE DO IS WITH A SIMPLE AIM IN MIND; TO HELP YOU CREATE THE PERFECT 'HOME'"
ACRES ARCHITECTS - OUR EXPERIENCE
Our team of Architects and technologists can support projects nationwide. Our Headquarters are in Nottingham but we have studios in Manchester and London to ensure we use our local knowledge on our projects. We deal with the vast majority of the UK registered councils meaning we know how to progress your project.
We also have a great deal of experience working on grade II listed buildings, paragraph 80 projects, barn conversions new builds and home renovations, we can also support you with interior and landscape designs for your project.
OUR MISSION
Our mission is to spearhead through the architectural marketplace as a specialist in residential design, assisting private homeowners, across the UK to create the perfect 'HOME'
ACRES CONSTRUCTION
We are a new, innovative construction business with a vision to do things differently and pave the way to elevating the construction industry. We have a wealth of experience om building outstanding commercial and residential properties across a wide variety of sectors.
We are ISO 9001, 14001 and 45001 accredited specialists in delivering amazing commercial and residential projects.
BRINGING YOUR PROJECT TO LIFE
At Acres Construction we have extensive experience in delivering multi-million pound commercial scale residential and retail projects from professional property developers and private owners. We'll work closely with your Architect, project manager, clerk of works to understand the project requirements. We'll then work with you to deliver the project on time and on budget.
AT GRAND DESIGNS LIVE
We're very excited to be attending Grand Designs Live this year. At the event our Architects and Construction team will be on hand to discuss your project with you and give you advice on how we can bring your dream build to life.
On the stand you'll be able to have a go on our Virtual Reality suite, which is a fantastic tool for helping our clients understand the space we're creating and how it will work for them.
Tony Moore, Managing Director of Acres Construction, will also be available to offer advice and answer any questions on the physical build of your dream home. We feel that having this 'turnkey' solution in one place makes the process of design through to completion much easier and pain-free for you. Our team will help you through every step in the process and because we're based in the same building and work closely together we can help make your dream a reality much more quickly.
We hope to see you there.
GET IN TOUCH
If you're looking to start a project we'd love to hear from you.
Contact us on:
info@acresarchitects.co.uk / 0808 169 4480
info@acresconstruction.co.uk / 0115 666 0055
info@acresgroup.co.uk / 0115 838 9738
Website:
acresgroup.co.uk
acresarchitects.co.uk
acreconstruction.co.uk