Sofa Beds are an ideal spare room bed replacement and with a quality sofa bed the sleep experience of your guests in not compromised. Putting a sofa bed in your spare room lets you create a living space (or snug?) that doubles up as a second living room, put a TV, music system in there too and if you add in a clever coffee table (that doubles as desk or table) and you'll have a room that can fulfil a multitude of roles for the whole family.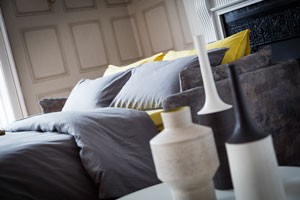 Swapping the bed for a sofa beds in a spare room adds a lovely cosy extra room that you'll appreciate next time a major sporting event is on the TV! Quality sofa beds are comfortable as a sofa and have a choice of mattresses and now come in all proper bed sizes sofa beds can be used for every night use. Furl Sofa Beds
Storage Beds
These are regular beds that have masses of storage inside, the storage area is accessed by lifting the mattress upwards to reveal the storage box underneath. They are easy to open as the action is assisted with gas springs which hold the mattress up securely. If your spare room is a essential part of the storage space in your home then a storage beds could be a good solution, allowing you to have a beautiful spare room with all the items you need to hide away , nicely hidden inside the bed. Choose a storage bed that good a small frame and you'll make your spare room seem bigger.
Unfurl your spare rooms full potential, with the correct Storage Bed, Sofa Bed or Wall Beds from furl.co.uk or visit our London showroom to see the full range side by side.